Welcome to my very first post of the series Ayunda's Thoughts! For this post I'd like to share my thoughts about books that are so amazing that if anyone would ever attempt to make a movie about it, they would fail.
#1. Sphere by Michael Crichton.
This was my second book by Michael Crichton, and it was also my favourite to this day. Now I know that this book has been made into a movie – an unsuccessful one as well – and I haven't watched it yet but I just wanted to put it on the list because it really doesn't deserve to be made into a movie. This novel is about a group of scientists who were called to explore a unique object underwater and to find out what it is and where it came from. It's totally my type of book – with a lot of science fiction (especially plenty of biology), great characters, and amazing plot.
This is the only book that has ever made me shiver with both fear and apprehension, it's wonderful in the way that it's mysterious, thrilling, and a really really fun page-turner. I love it so much with all the twists and turns and I know that no movie will ever do it justice.
#2. The Knife of Never Letting Go by Patrick Ness.
Now I've only read the first two books of the trilogy but I absolutely adored the first book. This is a story about a boy who lives in a dystopian planet where the male inhabitants can project their own thoughts and the women can't, but they can still hear the men's thoughts. Now even from that description you'd know that this will be a very tricky movie to make.
In the book, the thoughts were described as Noises, that everyone would broadcast their thoughts with different voices and dialects and I'm pretty sure it won't be handled well if a movie will ever be made.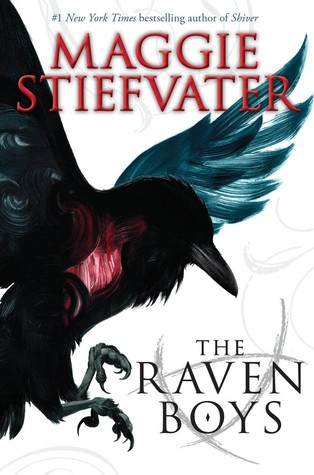 #3. The Raven Boys by Maggie Stiefvater.
For this particular book/series, I am a little nervous about because right now it has had a lot of attention and a lot of people are making movies out of YA series nowadays. And I'm terribly afraid that someone will attempt to make a movie out of this series. This book is about a group of teenagers, a girl and four boys, in search for a magical king in a small town in USA.
The thing that I know movie makers will ruin if they adapt this series is how they would mess up the characters in the books. In the books, the five main characters are so unique and specific, with their own traits and characteristics that it's hard to find an actor/actress that will be able to portray them well. Not saying that there are no actors that can act good enough for the characters, but there is also the problem of the relationship between the characters that will totally destroy the whole story if it wasn't done right. So if a movie adaptation does come out, I'd have super big expectations about them and the actors playing them.
#4. Artemis Fowl by Eoin Colfer.
Well this last book on my list is one of my favourite books of all time. It's a series of eight books about a teenage boy, Artemis Fowl, who is a rich and selfish but super genius boy who tries to kidnap a fairy (an underground, really high-tech one) to get more money. Well I'm terrible at describing the book because I absolutely love this series. And I have heard news from like a year ago about the movie being planned, and then the production being cut back because of lots of reasons and how the movie will adapt the first two books together, which breaks my heart.
This book series is incredible in the way it's smart, funny, and has an amazing plot. Not to mention it has excellent characters. And for this book to be made into movies would destroy everything because as you all know movies won't focus on the details of a book and this book/series has a lot of technological details that make them amazing and enhance the plot. Also I'm sure the movie's plot will not be as mindblowing as the books will be. So a huge huge NO for an Artemis Fowl movie. Never ever ever.
So, those are my thoughts on books to movie adaptations that should never ever happen. What about you? Are there books you love that you think would never become a good movie? What are your thoughts on the books I mentioned above? Feel free to comment below!