Welcome to the Five Things series, where I make a small review of a book that I read by listing all the things that I love or hate about them. The book I picked is Shiver by Maggie Stiefvater. Although the last time I read this was 5 years ago, I still remember a lot of the parts of the book and how I felt reading it. Alright, moving on to the things I love about Shiver!
#1: The Cover.
Yes, yes, yes. I have to admit that the reason I bought this book was only because of the cover. I mean, how can people not like it? It's simple, but very beautiful. I love the colors, the white background and the blue silhouettes and the striking red dot that just catches the eye. And, of course, the mysterious wolf behind the trees that I didn't even notice the first time I saw it. So yes, it's one of the most attracting parts of the book.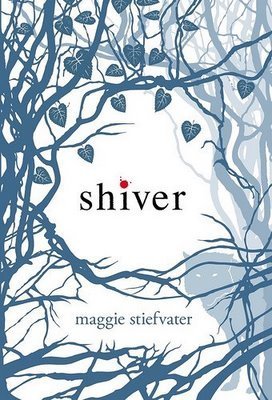 #2: The Writing Style.
I love Maggie Stiefvater's writing style. I love words that are woven together beautifully, sentences that form together so harmonically and almost poetically. It's so lovely to read and enjoy and this book has a beautiful writing style, with words that are almost lyrical and describes the ambiance of the scenes perfectly. Some people might find it boring and slow, but I really liked it.
#3: Dynamics Between Sam and Grace.
Ah, yes. The romance. When I first read this book, I was a very sappy, romantic, lovey-dovey preteen and this book was just perfect for me. But thinking about it until now, when I am more mature and think less of romantic relationships on books, I still really liked Sam and Grace. They are one of my top OTPs, right up there with Wolfstar and Johnlock. Like, seriously, I know the love story in the book and series was kind of predictable, but when Sam and Grace are together, everything is just so beautiful to read. Their interactions, from being stiff with each other, until finally being so comfortable with each other that when they are together in the same room, the atmosphere will feel like it was charged with electricity. I really liked their relationship and it made the story even more beautiful.
I'd found heaven and grabbed it as tightly as I could, but it was unraveling, an insubstantial thread sliding between my fingers, too fine to hold.
#4: The Beautiful Atmosphere.
I love how cold and wintery this book is. With the engaging writing style, added to the setting of the book, every time I think about this book, I'd think of cold days, falling snow, wearing wooly hats and gloves, woods with no leaves and everything associated with winter. I hate the cold and I know there were parts of the book that weren't set in winter or isn't really that cold, but most of the time the book describes the atmosphere as being chilly, but then you also have the warmness of the characters, or when they'd talk inside the car with the heating on, or when they'd stop by a cafe to smell the chocolates and there are some warmth in the scenes but the coldness is also present and when I read it, I can just feel every atmosphere of every scene so vividly.
Another thing I'd like to mention about this is how unique the book is to include the little cute temperature updates on each chapter beginning, just for us to really feel how cold it is during that scene. I think it really gives in more feeling to each part of the book and sets the book apart from other novels.
#5. It's Not Just Another Werewolf Story
The aspect I'd really like to highlight about this last thing I really love is how this isn't just a young adult novel about a girl who falls in love with a werewolf. In this story, some parts actually sort of makes sense, you know? Stiefvater tries to make the idea of werewolf transformations to not be some sort of magic or paranormal phenomenon, but something that has reason, and even a little science related to explain werewolves. And I know that she really did a lot of research for this book/series, I know how she'd really study a lot about wolf behaviour and mythologies about werewolves and all that, yet she tries to create a unique twist on things like finding a cure. So this book is really different from other paranormal slash fantasy YAs in that way for me.
What about you, did you like Shiver and the rest of the books in the series as much as I did? What about other werewolf novels you've read? Do you like Stiefvater's writing style like I did? Tell me what you think in the comments!